Marketing Edge
BRANDING | CAMPAIGN
Done at LIFT Agency
San Francisco, 2016
TEAM:
Creative Director: Tim Carr
Account Manager: Noelle Tremmel
Creative Advisor: Julia Ng
Designers: Cesar Karamazov, Carissa Atrianty
Marketing Edge Collegiate Summit is an annual event connecting undergrad marketing students from across US to learn how brands and companies are creating targeted, campaigns utilizing digital, data-driven strategies.

The following project is a collaboration work initiated by Lift Agency to help establish the visual identity, propose, and design the brand elements and deliverables for the Collegiate Summit.
Brand Concept:
The Puzzle Piece
The logo is based on a piece of puzzle. Just a piece itself is incomplete but if it's connected to other pieces, it will be a whole artwork. This ties to the participants of Collegiate Summit – undergrad students from different corners of the country transitioning to the professional industry. They represent that individual piece of puzzle. The event will connect them together.

Besides making them whole in one event, when they finish the program, they themselves will gain more knowledge, hence adding more piece of puzzle to their own.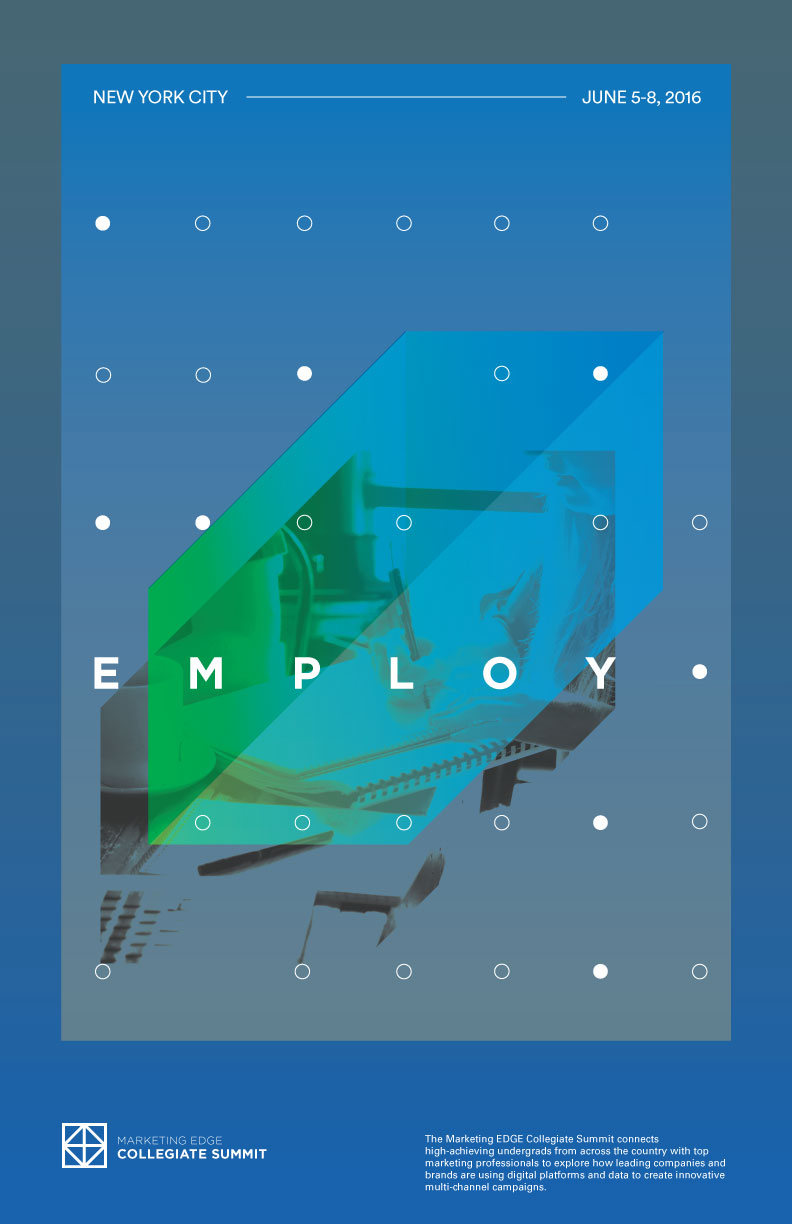 "Educate, Develop, Grow, and Employ." is Marketing Edge slogan, which I apply to the poster series. Each poster illustrates each word slowly coming together, signifying the students progressing to becoming marketing professionals by the end of the conference.


SIGNAGES + WAYFINDING

Utilizing the puzzle pieces forms to create arrows.
EMAIL NEWSLETTER
Subsidiary
Campaign

Sponsor a Student Campaign is a new brand subsidiary of Marketing Edge, targeted towards potential donors and sponsors of the organization. We designed a printed collateral kit comprised of a letter and a thank you card.